In which Country do you want to buy Substratum
I'm from [country]
Select if you want to buy Bitcoin or Ethereum first
---
Note: you first have to Buy Ethereum or Bitcoin to buy Substratum. You can't buy Substratum directly with your currency.
---
I want to buy: Bitcoin
I want to buy: Ethereum
---
How to buy Ethereum
Now we'll purchase the popular cryptocurrency Ethereum, so that we can exchange it for Substratum (if you already own Ethereum you can skip ahead).
Choose which Ethereum exchange you'd like to use (by clicking on the logo), and the guide will continue:
Coinbase

Operates in

 

32 countries.
Accepts debit & credit cards and bank transfers.</li>
Can have low buy limits at first, increases with use.
ID verification required.


Cex.io

Worldwide coverage, 99% of countries.
Accepts debit/credit cards and bank transfers.
High initial buy limits compared to other exchanges.
ID verification required.
How to buy Ethereum on Coinbase
1. Signing up for CoinBase
If you use this link to sign up to Coinbase we'll both receive ten dollars of free coins when you spend over $100 (or the equivalent in your currency).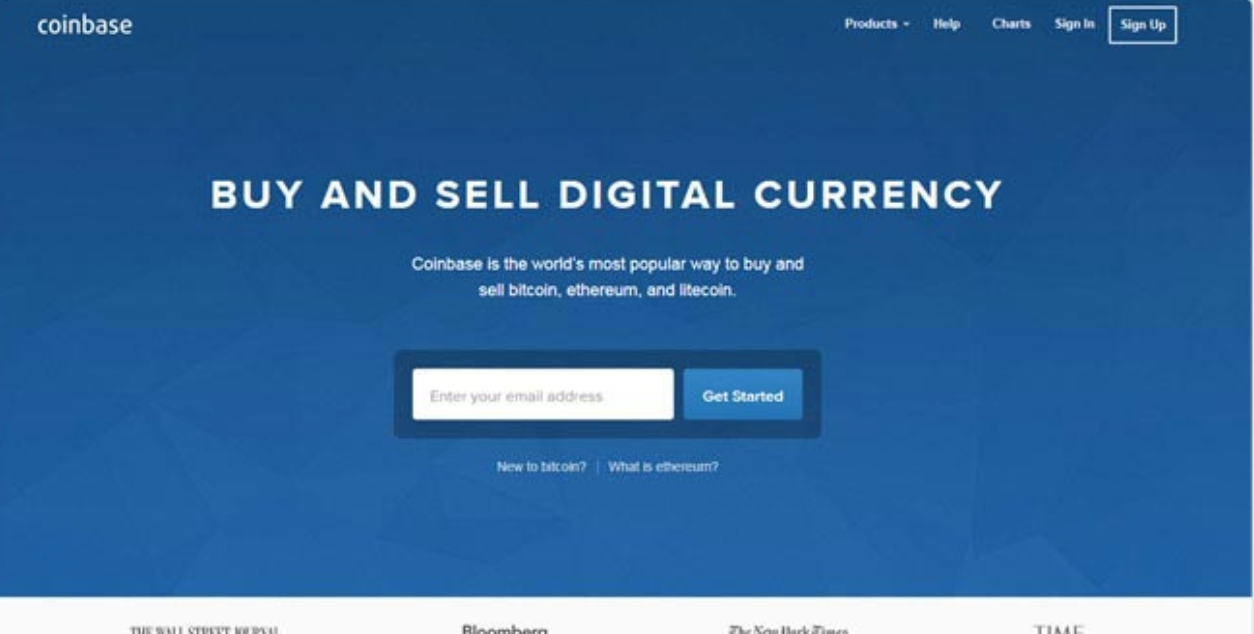 2. Logging in on CoinBase
Press the 'sign up' button and fill out your name (make sure this is exactly how it's written on your photo ID), email, password and location.
Just like a US bank, Coinbase is regulated by the US government, and has to follow strict financial rules. So they take verifying your identity very seriously. It's a pain, but it does give Coinbase a reputation for being the most trusted way to convert fiat currency to cryptocurrency.
To verify your account you must supply a phone number, upload an image of your photo ID and verify a credit/debit card or bank account before you can buy.
Note:  If you have problems verifiying your ID using your computer, try downloading the Coinbase app (on Iphone or Android), signing into your Coinbase account and verifying your ID using your phone camera.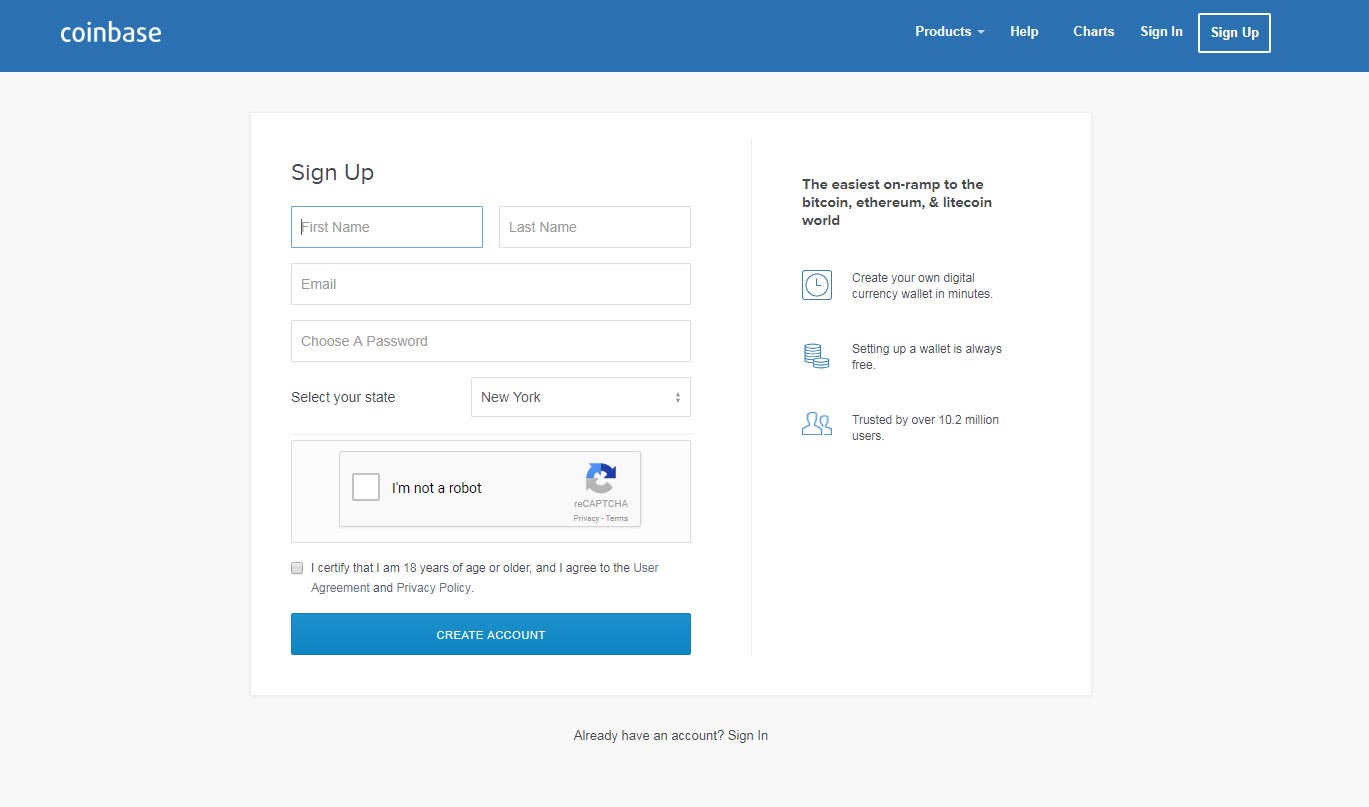 3. Buying Ethereum cryptocurrency on Coinbase
Using a credit/debit card on Coinbase means higher fees but offers instant purchasing. Using a bank transfer is cheaper but slower (taking up to a week to get your coins).
Once your payment details are verified, click 'buy/sell' on the top menu.
Select 'Ethereum', and at the bottom of the page choose how much to spend in your local currency / how many coins you want to buy.
Once you're happy with the amount, click the big 'Buy' button.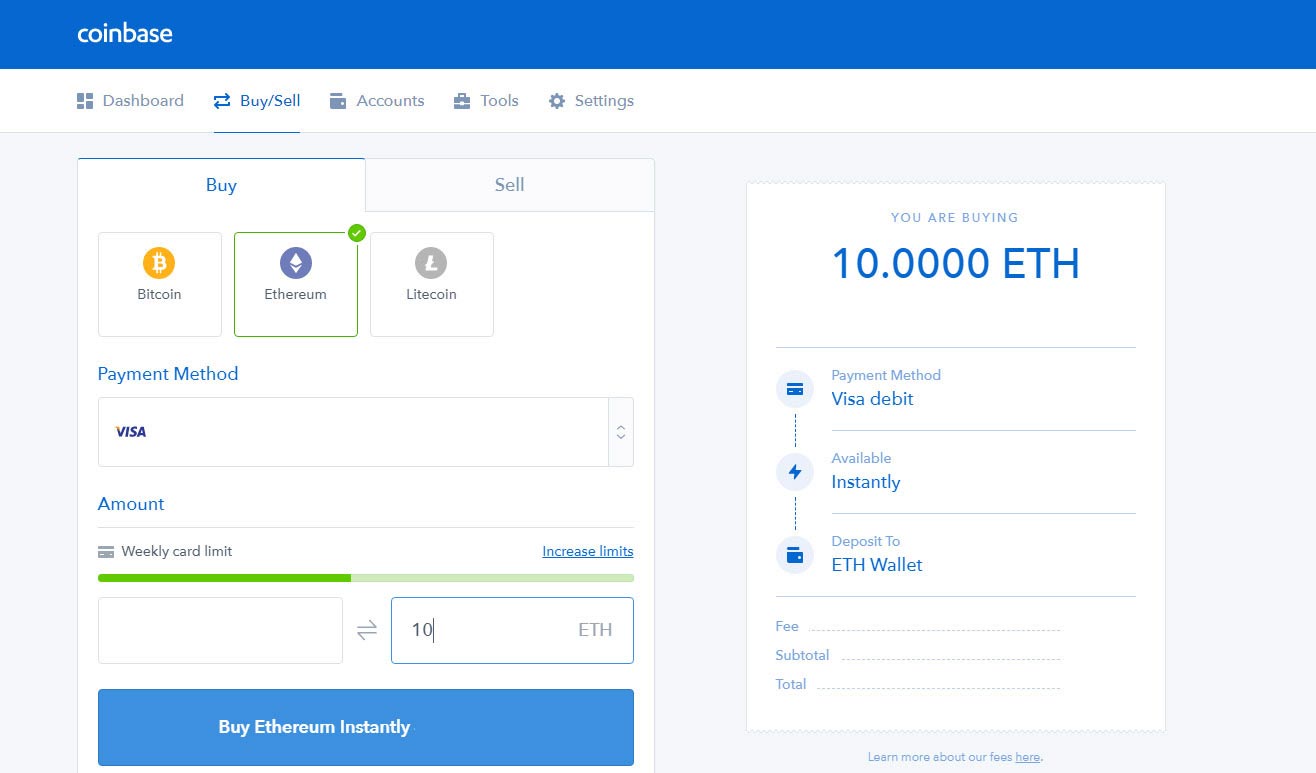 4. Confirming the Ethereum purchase
You'll be asked to confirm your purchase.
Press the 'Confirm Buy' button.
Congratulations! You now own some Ethereum. But don't close Coinbase yet, we're going to need it again in a few minutes.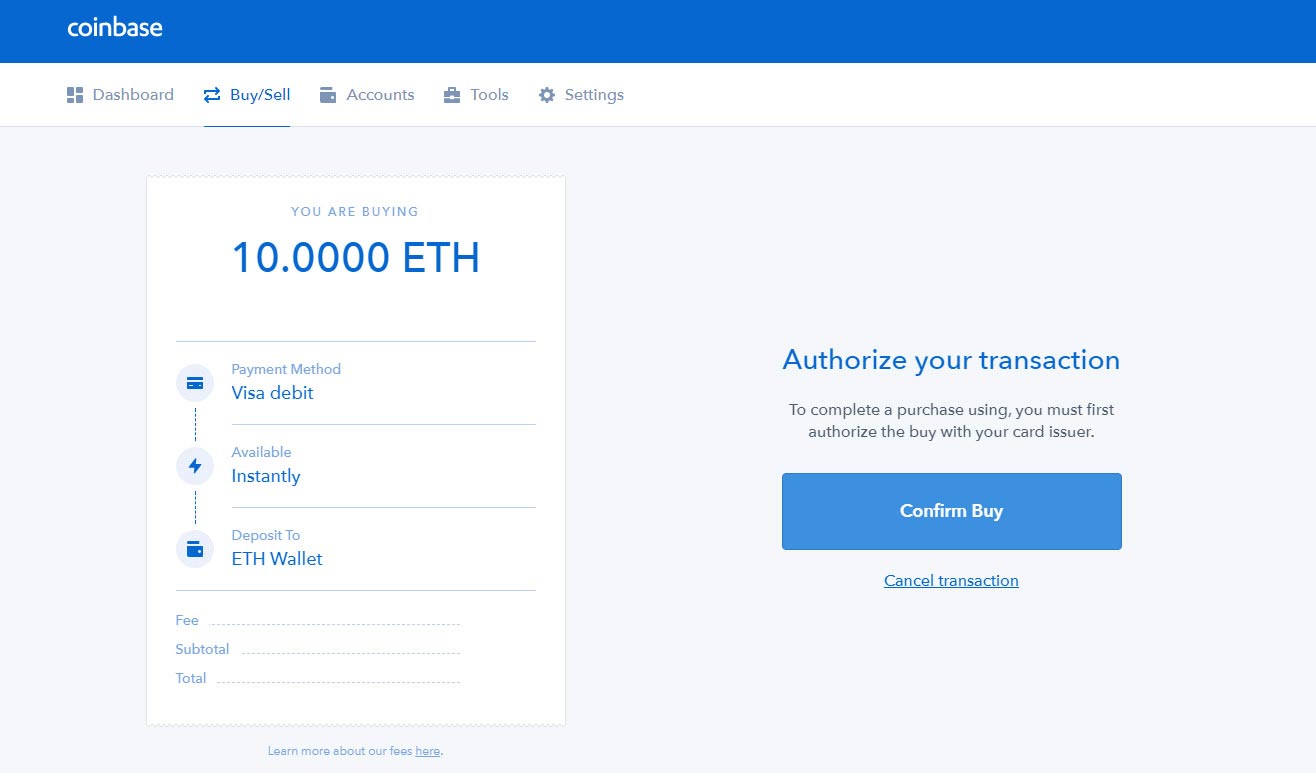 Choose which Substratum exchange you'd like to use (by clicking on the logo), and the guide will continue:
Example Binance logo

Binance

Operates in

 

32 countries
Accepts debit & credit cards an>nd bank transfers.
Can have low buy limits at first, increases with use.
ID verification required.

Worldwide coverage, 99% of countries.
Accepts debit/cr

e

dit cards and bank transfers.
High initial buy limits compared to other exchanges.
ID verification required.
1. Go to Binance to buy Substratum
We'll use the site Binance to exchange your Ethereum for Substratum. Click here to go to Binance, and click 'Register' on the top right menu.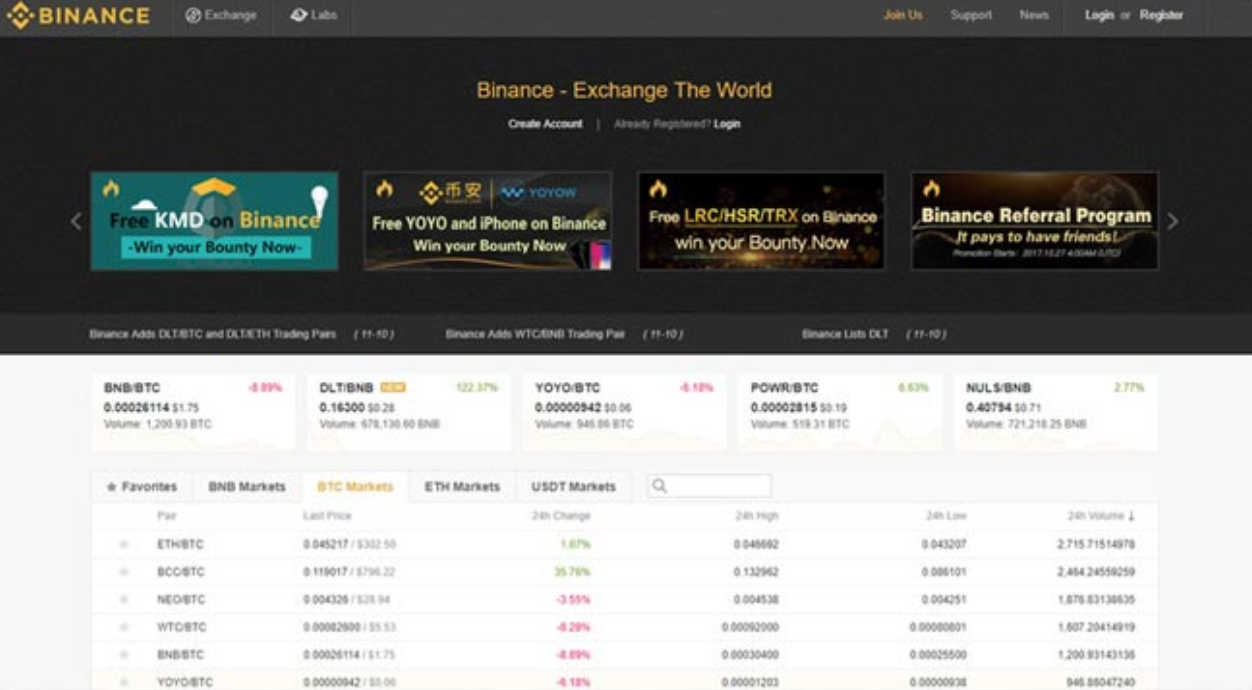 2. Open an account on Binance
Enter your email and a strong password (that you won't forget!).
Click 'Register'.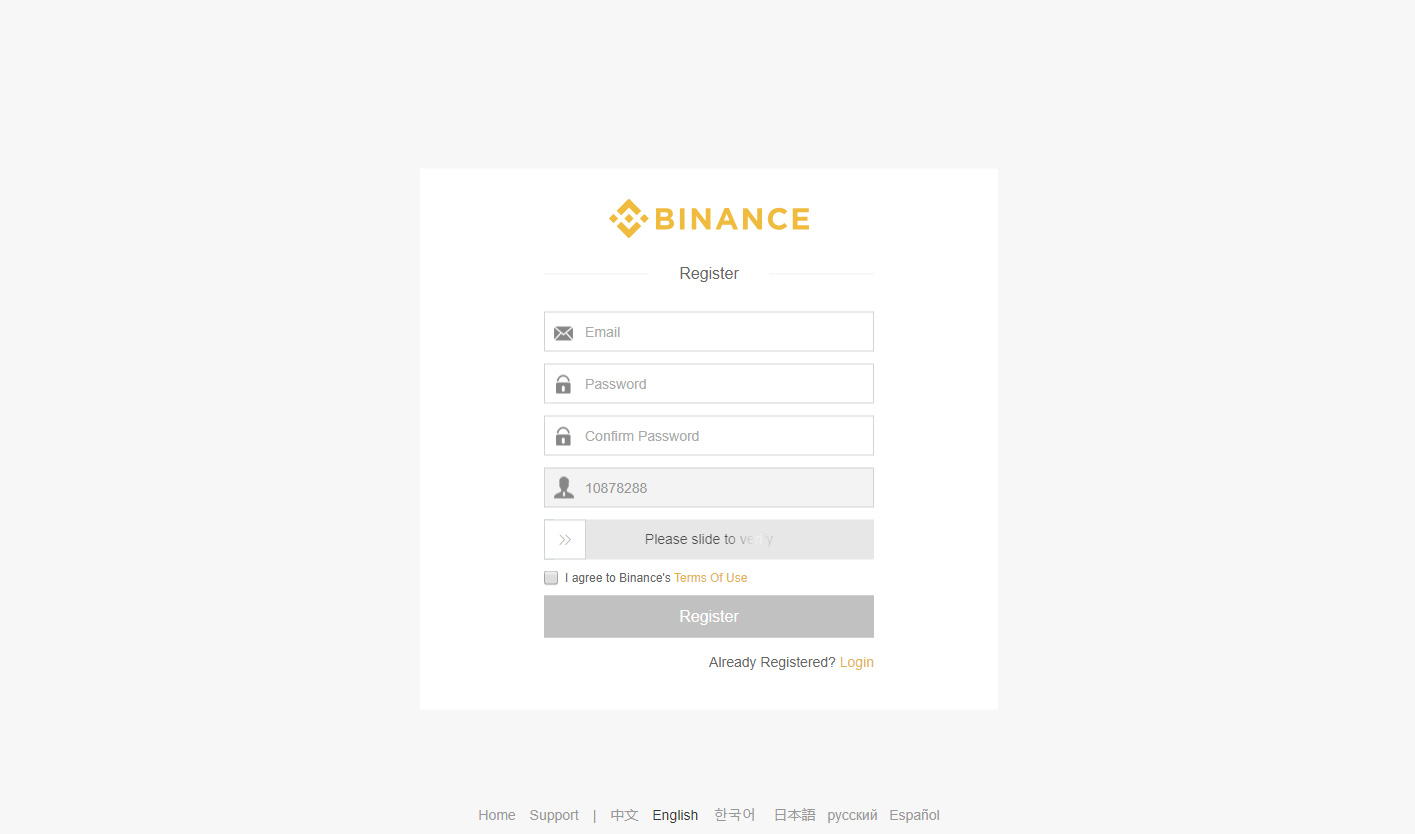 3. Confirm your Binance email addresss
You will be sent an email to confirm your email address.
Click the link in the email.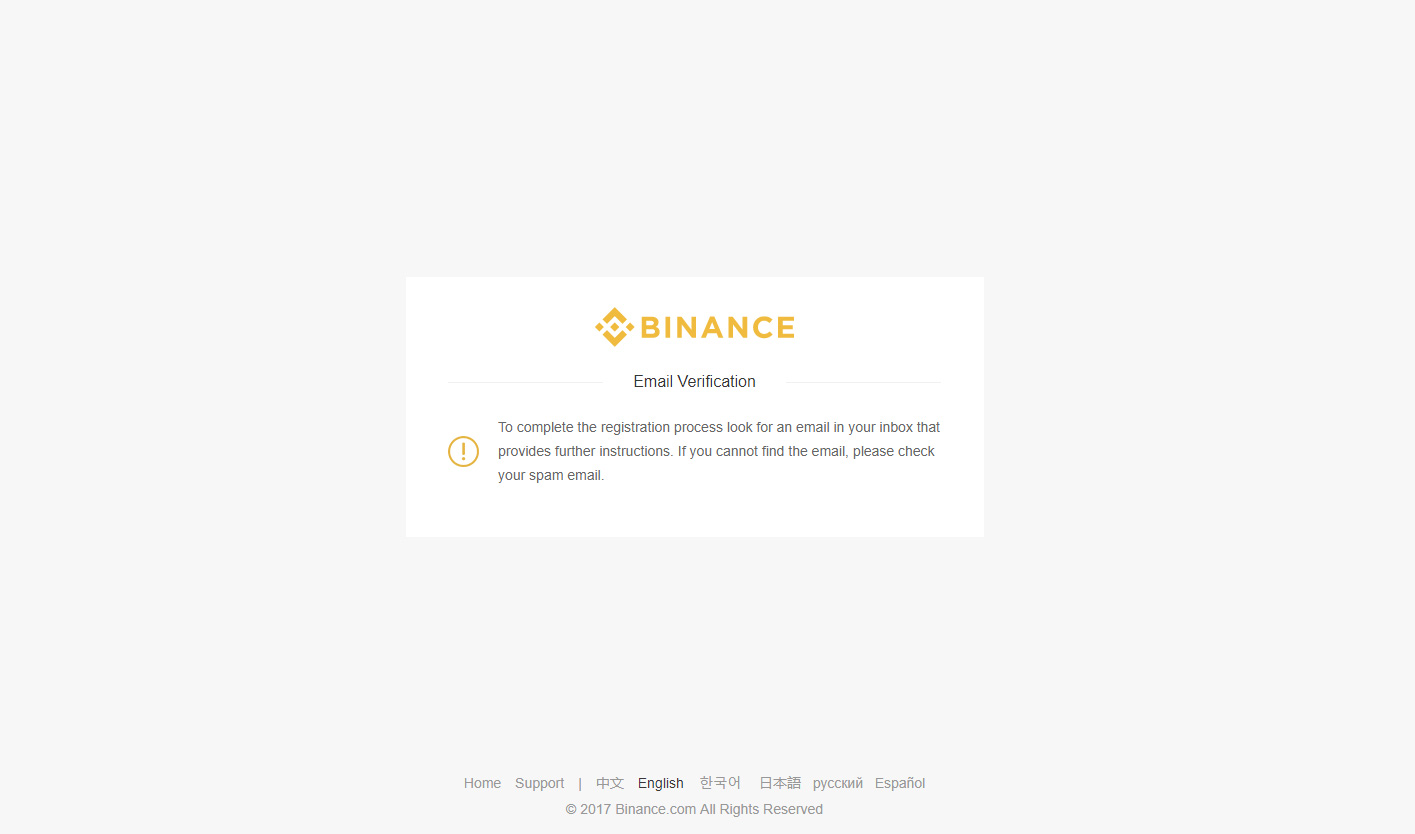 4. Logging in to binance
You will be taken back to Binance as your email is confirmed.
Press 'Login'.
On the login form, enter the email and password you just used to sign up, then press 'Login'.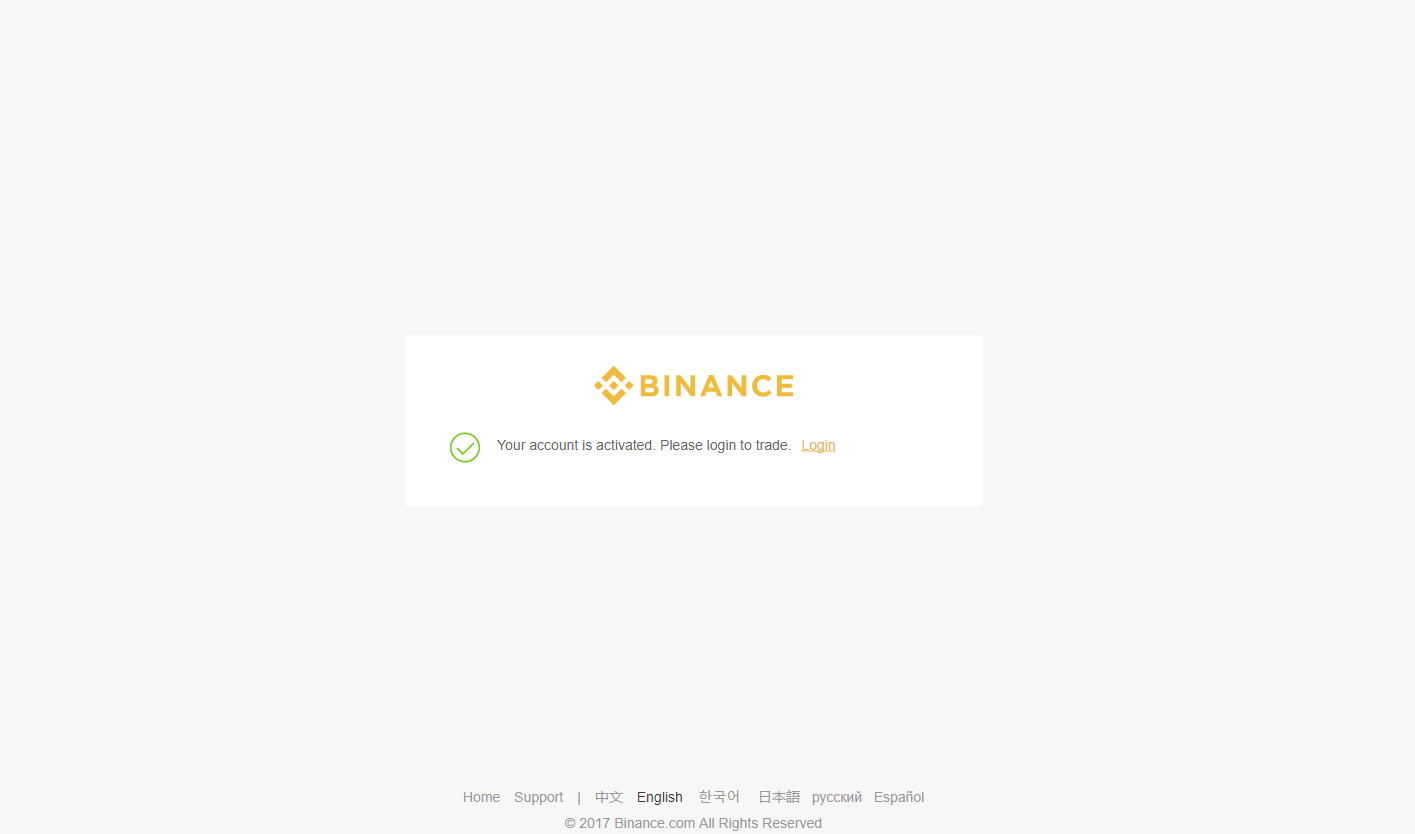 5. Setup 2 factor authentication on binance
A pop-up will advise you to set up 2FA (two factor authentication) on your account.
We strongly advise you to do this- in the event a hacker manages to get hold of your password, this second level of security makes it very unlikely they will be able to get into your Binance account.
We recommend using the Authy app on your mobile phone or web browser.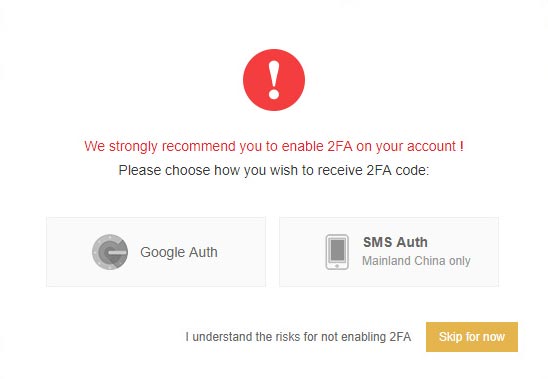 Transferring Ethereum from CoinBase to Binance
1. Find your binance Ethereum address
Hover your mouse over 'FUNDS' on the top menu and click on 'Deposits Withdrawals'.
This screen displays any coins you have stored on Binance- obviously none at the moment.
Type 'Ethereum' in the search box.
This will narrow the wallets displayed to just a few- in those, find Ethereum.
Press 'Deposit'
You will be given a Ethereum deposit address (a long string of numbers and letters).
Copy this address and keep it somewhere safe as we're going to need it soon.
Note: Double check you've actually selected Ethereum (ETH)- if you send your coins to the wrong wallet you will lose them.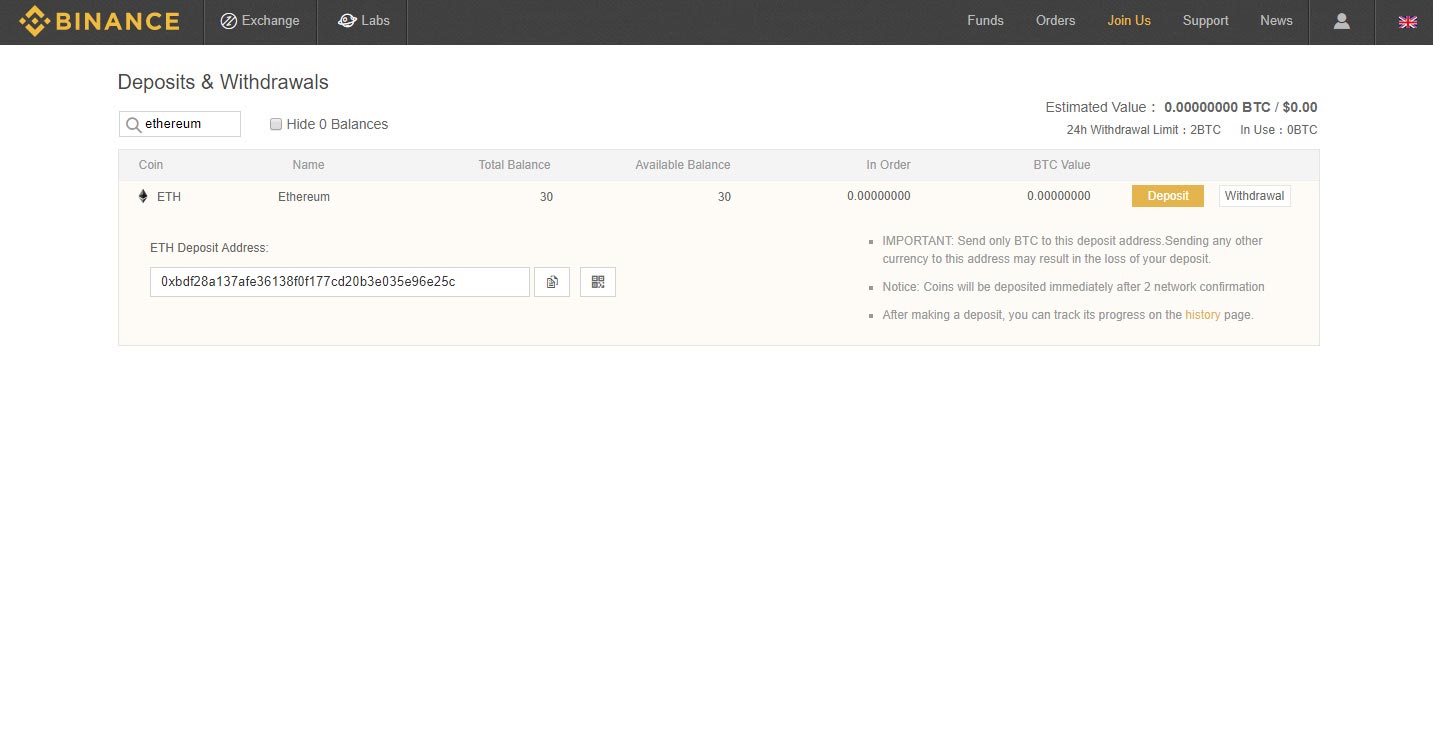 2. find your coinbase balance.
Now, return to Coinbase.
Click 'Accounts' from the top menu, then find your Ethereum wallet listed on the left.
Click 'Send'.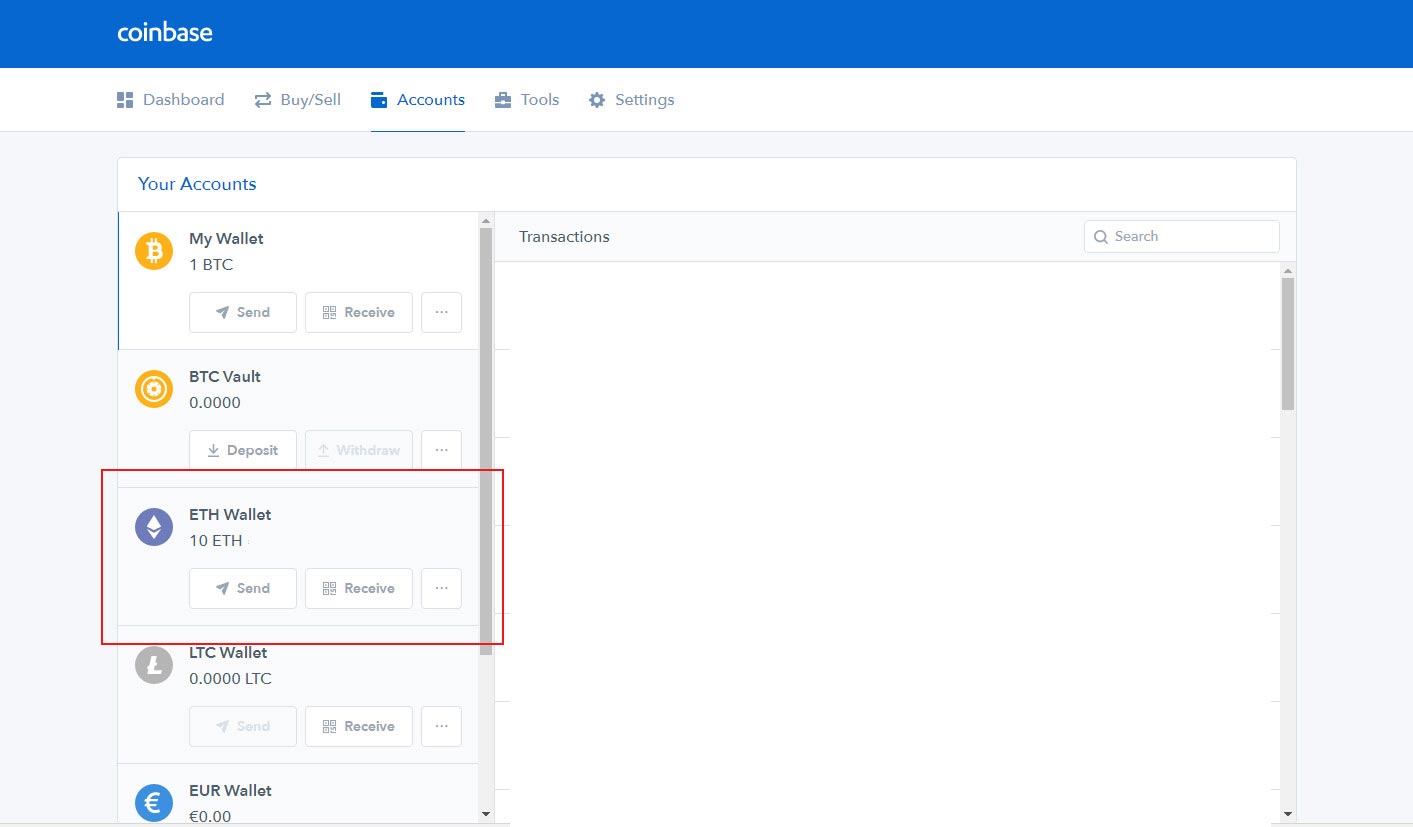 3. Lookup your coinbase transaction
In the 'Recipient' box, paste the Ethereum wallet address we just copied from Binance.
In amount, type how much Ethereum you wish to send (there is a 'use max' option if you wish to send it all).
Click 'Continue'.
Coinbase may ask you to confirm with your password/phone. Follow the instructions until it confirms the Ethereum are sent.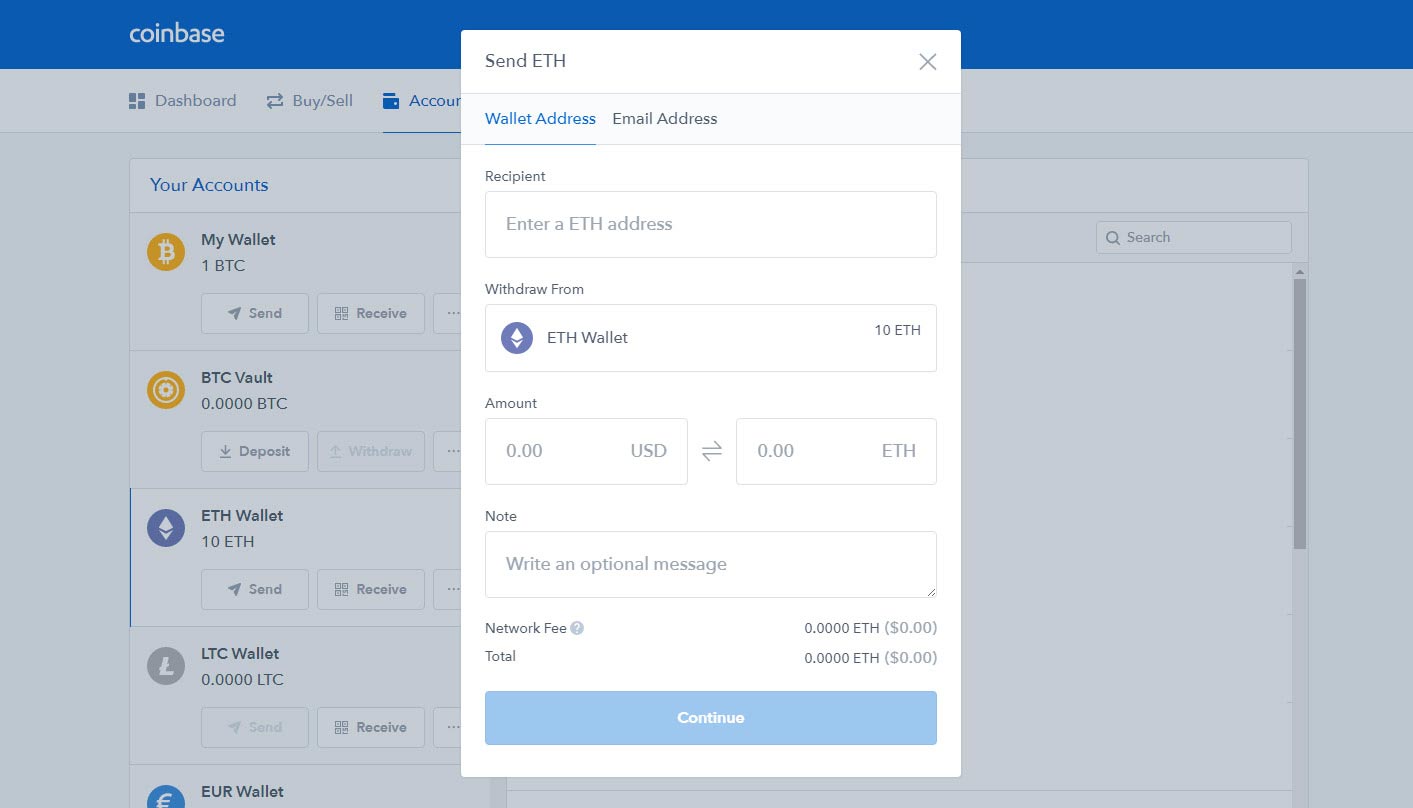 4. Wait till you received your transaction on CoinBase
Now we've got to wait a few minutes for the coins to move across the network. 
Unless there's an unusually large network backlog, the coins will take between 20 and 60 minutes to appear in your Binance wallet. 
Binance will update automatically so there's no need to refresh the page.
Exchange your Ethereum for Substratum on binance
1. Receive your Substratum balance on Ethereum
Once the Ethereum shows in your 'available balance' we're ready to trade for Substratum.
Click here to jump straight to the SUB/ETH exchange market on Binance.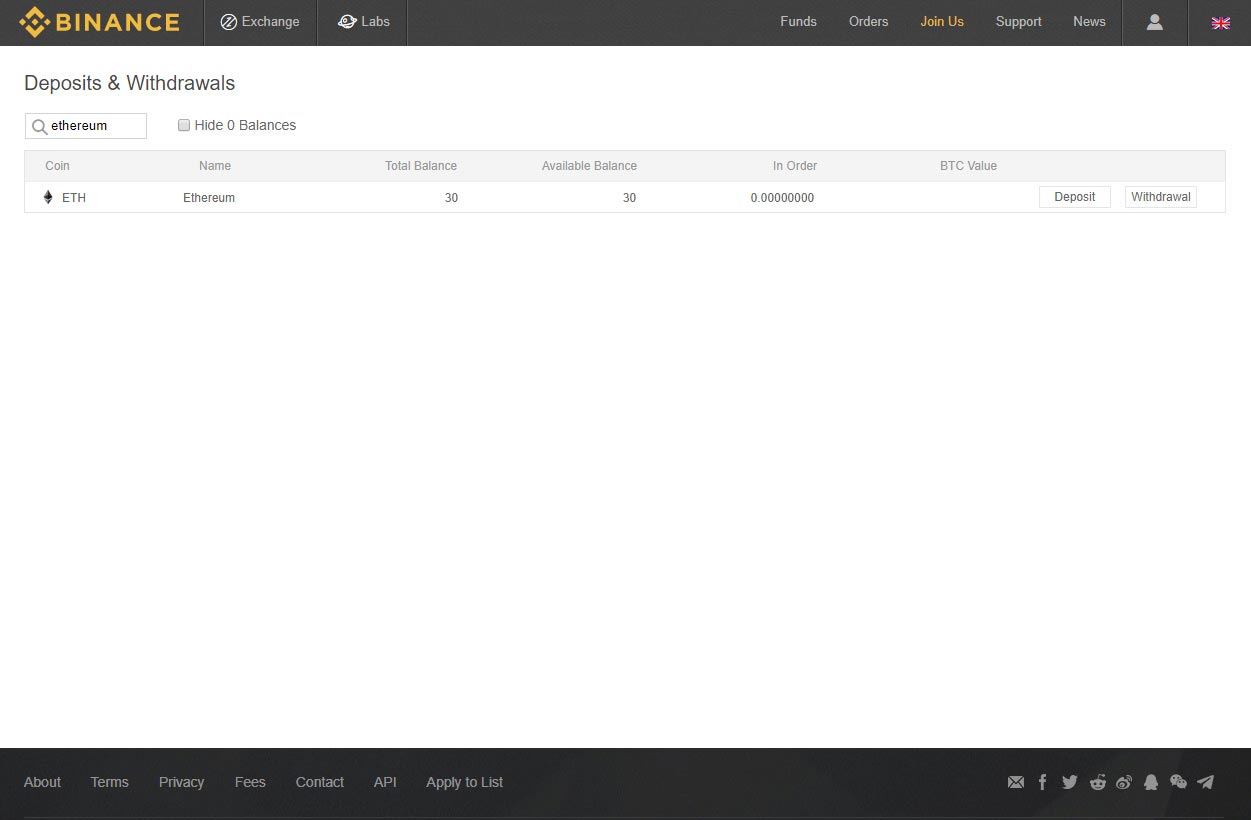 2. Now you can exchange your Ethereum for substratum
The exchange page can look overwhelming at first, but don't worry, we're only going to use a small part of it.
There are two ways of buying coins:
A 'Limit' order, which lets you manually set the price at which you want to buy SUB.
A 'Market' buy, which fills your order automatically at the best price available.
As market buy is the simpler of the two options we'll go with that.
Look for the big green 'Buy SUB' button.
Above it, click the 'Market' option.
In the input box marked 'Amount' you now need to fill in how many SUB you'd like to buy. It may be easier to use the percentage buttons below the input box- for example, press 50% if you'd like to exchange 50% of your Ethereum for SUB.
When you're happy with the amount, press the buy button.
Your order will be filled immediately.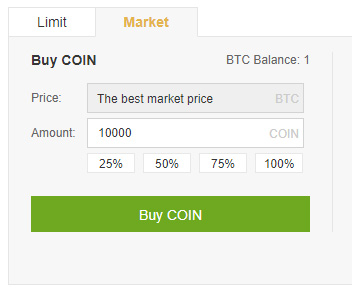 3. Check your Substratum balance on Binance
Press 'Funds' along the top menu, then 'Deposits Withdrawals'.
In the search box, type SUB. You will now see your new SUB in your SUB wallet.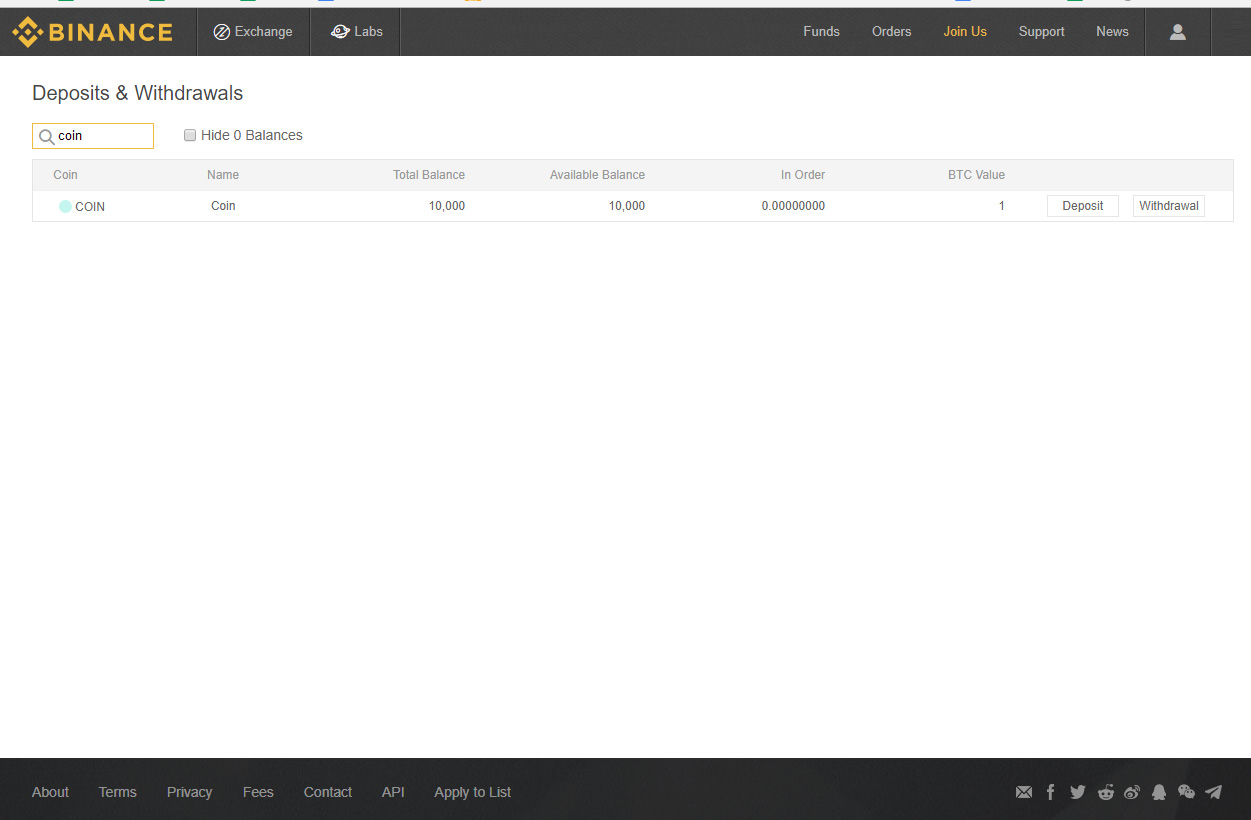 Withdraw your Substratum from Binance to the Substratum balance.
If you're comfortable with it, you could just leave your coins on Binance and they would probably be safe. However, exchanges have been hacked in the past, and people have lost coins, so we do recommend you keep them in a personal wallet. Here's how:
---
Note: You CANNOT store Ethereum tokens, such as Substratum, on Coinbase or CEX. If you send your Substratum to Coinbase you will lose them.
---
1. Create your Substratum wallet.
For this guide we'll be using the easiest & most convenient wallet option for storing your Substratum coins- provided by MyEtherWallet (which can store any coin on the Ethereum blockchain, including Substratum).
Go to myetherwallet.com and enter a password that would be hard to guess (but which you won't forget!).
---
Note: if you forget this password you might lose access to your coins.
---
Press 'Create New Wallet'.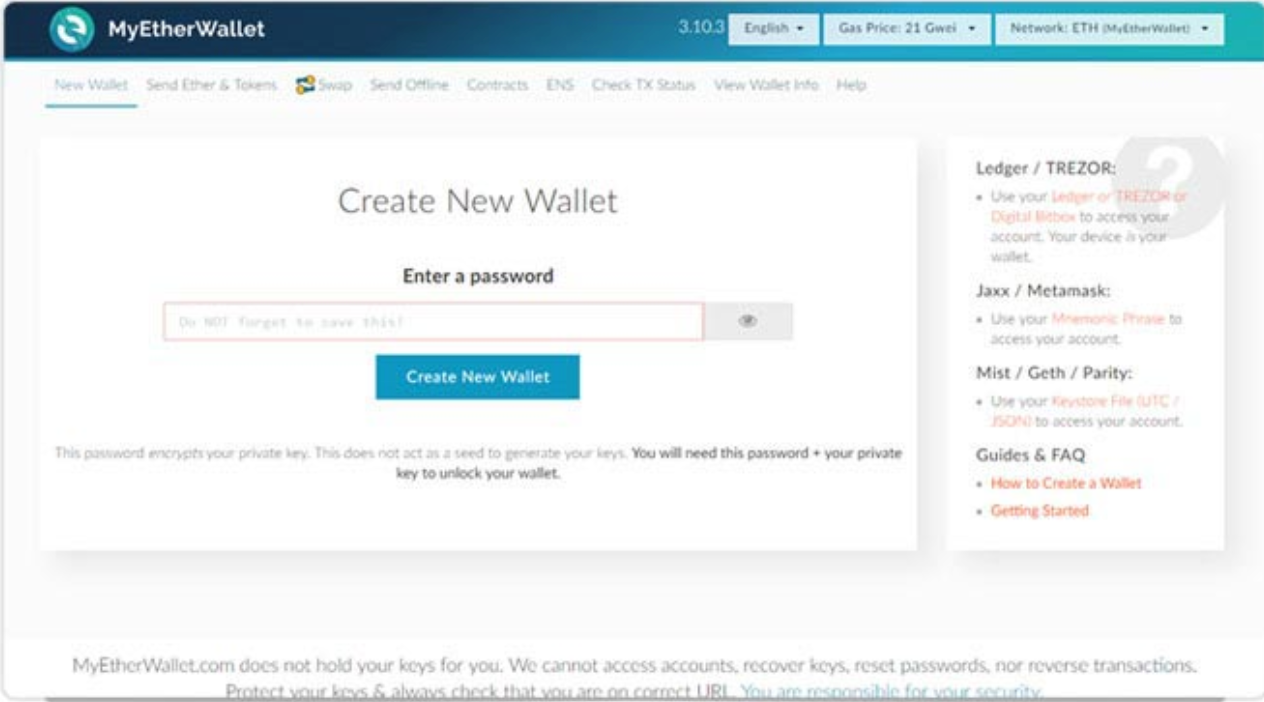 2. Download the keystroke file
Click 'Download Keystore File'. Be sure to read and understand the warnings.
It's very important that you back this file up somewhere safe (think multiple external hard drives and/or USB drives that you put somewhere safe).
Once you've done that, click 'I understand. Continue.'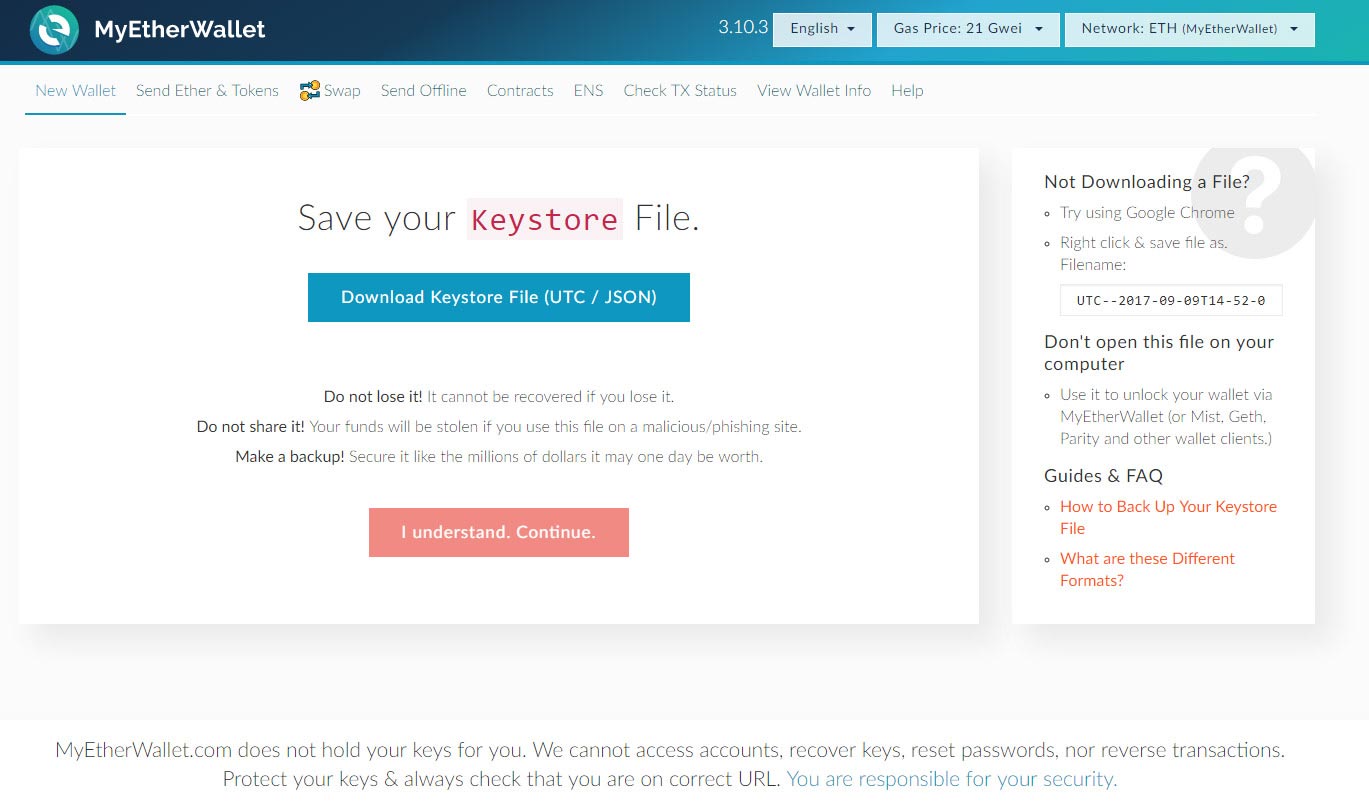 3. Save your private key
Now you will be given a powerful unencrypted private key to your wallet.
---
Note: Never give your private key to anyone. If you do, they can open your wallet and take your coins.
---
Consider printing out your private key and storing it somewhere safe- then deleting all references to it from your computer. Why? Because sometime in the future you might get a virus, or malware, or visit a website with an advert that has malicious code.
These things will target a private key, as it's an easy way to open your wallet and steal your coins.
So why print out your private key at all, if it's so insecure? Because it's your last resort. If you lose your keystore file (e.g. your computer gets wiped or damaged), or if you forget your password, with your unencrypted private key you can still access your account as a last resort.
There is also an option to print a paper wallet (which displays everything you'd need to access your wallet).
If you choose to print this, treat it just like the Keystore file you just downloaded- keep it hidden and keep it safe.
Next, click 'Save your address'.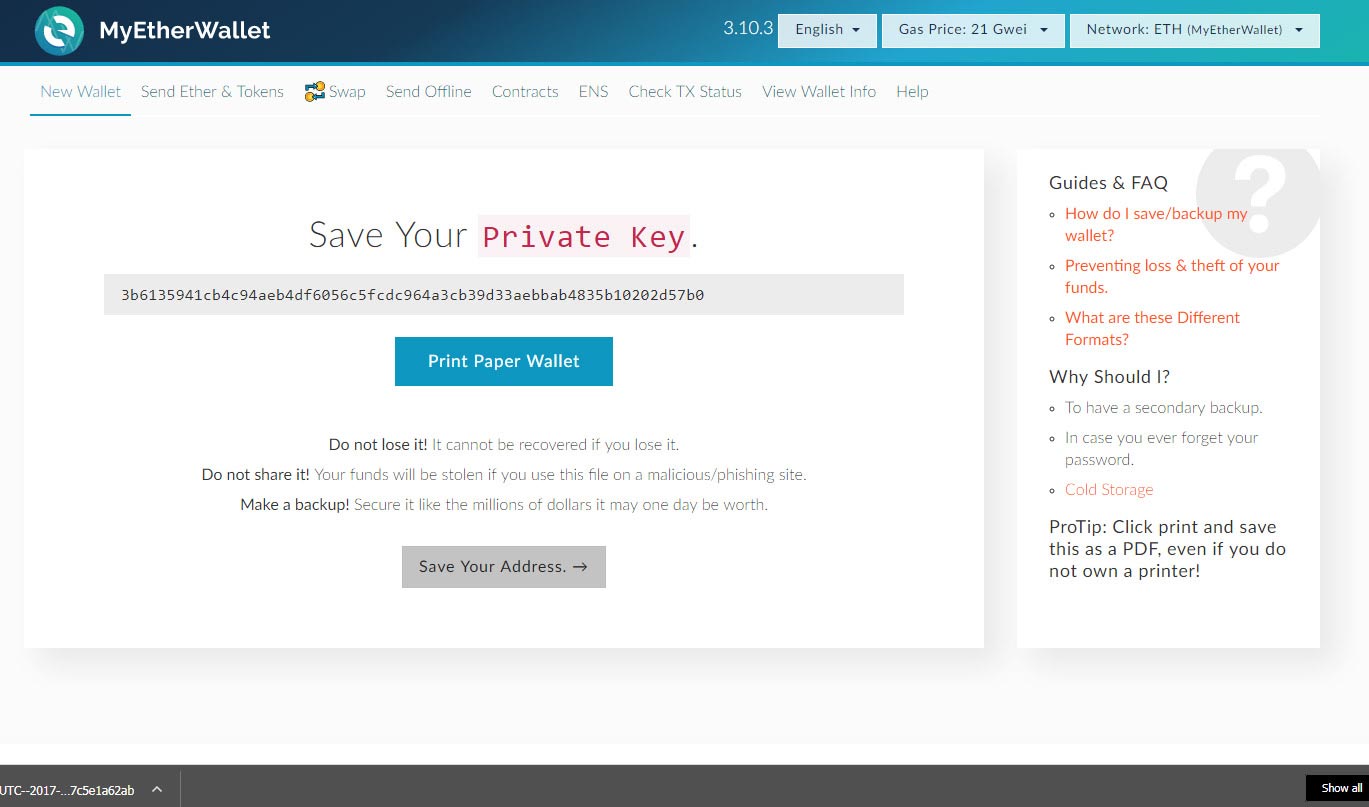 4. Withdraw Substratum balance to Binance.
Click the 'Withdrawal' button.
In the boxes that appear, fill in this information:
Label: Write 'My wallet'
Address: Put the wallet address that you copied from MyEtherWallet (in step 5).
Amount: Press the 'Max' button to send all your SUB.
Once you're sure all this information is correct (double check you've inputted the correct wallet address!), press 'Submit'.
If you've set up two-factor authentication, you will be asked for a code from your phone. Enter it and press 'Submit'.
You will be sent an email to confirm the withdrawal.
Go to your email and click the link that has been sent to you.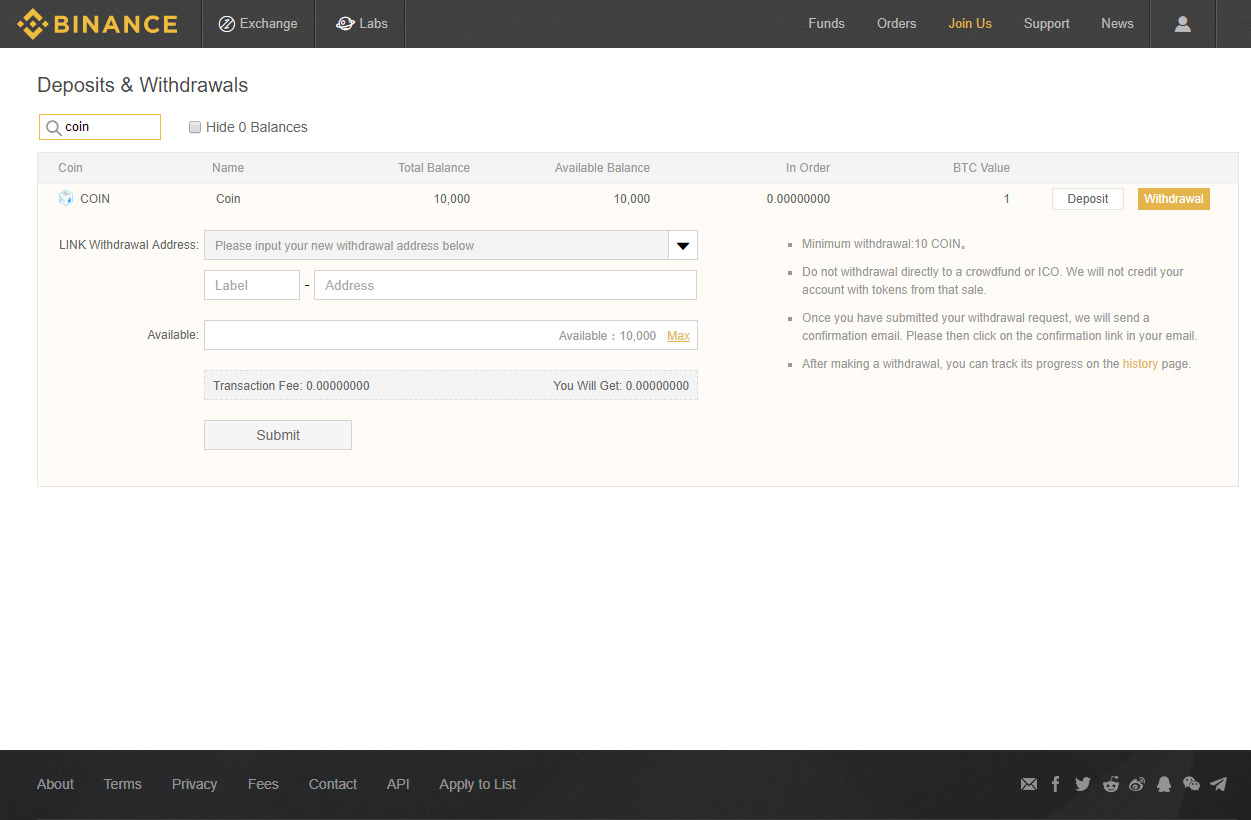 5. 
Go back to MyEtherWallet.
You should now see the Substratum (abbreviated to SUB) in your wallet under 'Token Balances'.
6. Important to know
One note of importance is that the example wallet in this guide has no Eth in it. Why is that important?
Substratum coins exist as a token on the Ethereum network. To move Substratum coins across that network costs 'gas', which are in the form of Ether coins. If in the future you want to move your Substratum coins to another address, you're going to need some of those Ether coins to power the transaction.
You already know how to buy Ether, but you can use this guide if you're still unsure how to move them to your personal wallet.
What about when you're ready to sell your Substratum?
You simply reverse the order of tasks you performed in this guide.
For example, you send your Substratum to Binance, exchange it for Ethereum, send that Ethereum to Coinbase and sell it for your preferred currency.